Her name is Thea.
Check this out: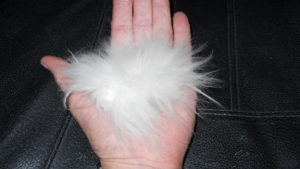 This might look like a cat toy, but it's a mat off of Sophie, my new calico cat. It took me six weeks of nightly groom to get this giant mat off her chest. 

I'm taming Sophie at night by giving her treats, playing with her and grooming her, too.
Two of my favorite cat videos.
Video by – Sign543
Video by – Sign543